Monday, December 19, 2011
Update : Version 4.0 released ! Crack is out!!!
4.0
NEW FEATURES!!
-Updated for iOS 5!
-Customize the speech language!
-Pick your language voice (when Apple adds more) to match your likings.
-Integration with Ryan Petrich's Activator
--Silence speaking by the action of your choice. Want a message to stop being read, choose one of Activator's many actions to silence it!
-Enable speaking of third-party apps individually! No longer do you have to have EVERY app speak notifications, just pick and choose the one's you'd like!
-Redesigned interface for iOS 5!
BUG FIXES:
-Fixed the bug where phone wouldn't ring
-Fixed crashing when receiving text from non 10-digit numbers
-Fixed crash when multiple calls/notifications/messages received at the same time
Download 4.0 Cracked : Official
Download CallTell SBSettings Toggle 1.0 : Official

CallTell is the next advancement in iPhone communications. Find out who's calling you BEFORE looking at your phone! CallTell announces who's calling you before ringing. It also works for text messages! You can even have CallTell read the text message out loud as well. You can enable/disable certain features via the CallTell page, in the Settings app.
This takes its volume from the mediaplayer volume, so turn up iPod volume if you are having issues
This add-on will not create any new icons on your homescreen. It can be configured from Setting app.
SoSly has tested it :
CallTell is a simple but cool tweak available in cydia that names out who is calling you. So for example you get a call and before ringing like normal the iphone uses its voice control feature to name out whos calling first. CallTell only works on the iPhone 3gs and iPhone 4 since voice control is required.

CallTell also has the ability to read out who has sent you a text message using voice control along with being able to read the whole txt message out to you. For the Review:


My personal experience with this cool tweak is 50/50. The name calling out loud before a call works well but its not loud at all so that defeats the purpose as you can barely hear the name before it starts your normal ringtone. The text messaging also isn't loud so again it defeats the purpose along with not being compatible with bitesms or other 3rd party text messaging apps.

I couldn't get the message reading to work until i disabled my 3rd party bitesms app and went back to using the regular stock messaging Apple app. Overall CallTell is a good tweak but needs some work and compatability added to it before it gets an A in my book. You can purchase it for $1.99 in cydia.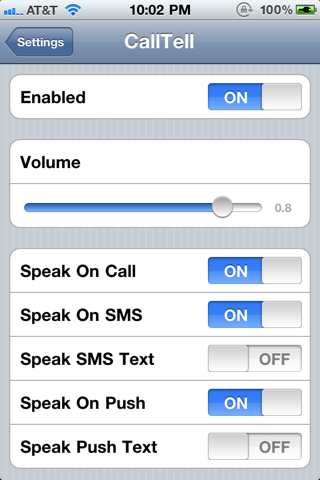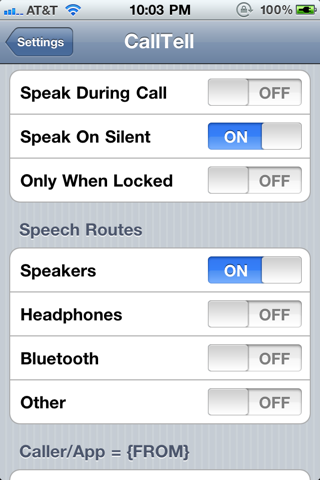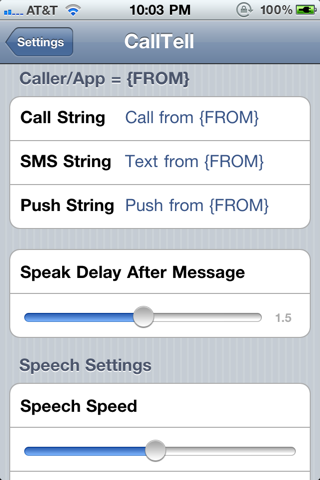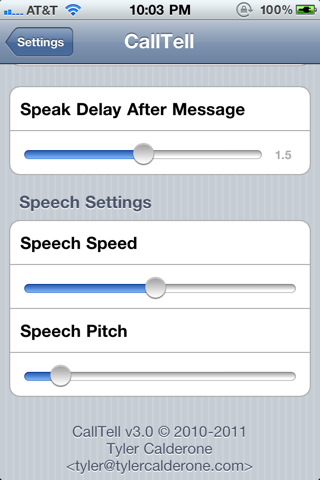 Notes :
Please note there is a bug with the settings page ( no extra settings for this ) this will be resolved upon next update, other than that it does work, install then try calling yourself , you will here it say whos calling ( call from ..... ) then start ringing!
---------------------------------------
Previous Version
3.1 : Official
3.0 : Official
2.0-1 : Official
1.1 : Official