Thursday, December 16, 2010


Update : Version 10.1.2 released !!
Here is what's new in iTunes 10.1.2:
iTunes 10.1.2 syncs music, movies, and more with iPhone 4 (CDMA model) and provides a number of important stability and performance improvements.
iTunes 10.1 came with several new features and improvements, including:
• Use AirPlay to instantly and wirelessly stream videos from iTunes to the all-new Apple TV.
• Sync with your iPhone, iPad, or iPod touch with iOS 4.2.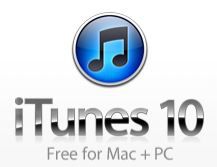 Mac
| iTunes version | | Download URL | | File size | Comments |
| --- | --- | --- | --- | --- | --- |
| 7.3.0.54 | | iTunes.dmg | | 35,425,508 | The first public release with iPhone support. |
| 7.3.1.3 | | iTunes.dmg | | 35,443,737 | |
| 7.3.2.6 | | iTunes.dmg | | 35,429,400 | |
| 7.4.0.26 | | iTunes.dmg | | 40,133,960 | The first public release with iPod touch support. |
| 7.4.1.2 | | iTunes.dmg | | 40,133,147 | Just a shoddy attempt at blocking a free ringtone trick. |
| 7.4.2.4 | | iTunes.dmg | | 40,144,654 | |
| 7.5.0.19 | | iTunes.dmg | | 43,108,871 | Permitted activation wherever the iPhone was internationally sold (UK, Germany, France) |
| 7.6.0.29 | | iTunes.dmg | | 47,208,945 | |
| 7.6.1.9 | | iTunes.dmg | | 47,208,945 | |
| 7.6.2.9 | | iTunes.dmg | | 48,099,123 | |
| 7.7.0.43 | | iTunes.dmg | | 50,664,930 | The first public release with iPhone 3G and iOS 2.0 support. |
| 7.7.1.11 | | iTunes.dmg | | 50,702,145 | Last version to include iTunesPhoneDriver.kext and Panther support. |
| 8.0.0.35 | | iTunes8.dmg | | 58,621,179 | The first public release with iPod touch 2G support. |
| 8.0.1.? | | iTunes801.dmg | | ??? | This was deleted by Apple swiftly. SHA-256 hash is c3d93f1f15ed70418398989ab5d7573daf127a53894235c9950ca53b88520e27. |
| 8.0.1.11 | | iTunes801.dmg | | 58,725,504 | |
| 8.0.1.12 | | iTunes801.dmg | | 58,696,603 | |
| 8.0.2.20 | | iTunes802.dmg | | 60,559,358 | |
| 8.1.0.50 | | iTunes81.dmg | | 66,440,133 | |
| 8.1.1.10 | | iTunes811.dmg | | 69,231,745 | |
| 8.2.0.23 | | iTunes8.2.dmg | | 81,038,040 | The first public release with iPhone 3GS and iOS 3.0 support. |
| 8.2.1.6 | | iTunes8.2.1.dmg | | 81,050,406 | |
| 9.0.0.70 | | iTunes9.dmg | | 86,820,031 | The first public release with iPod touch 3G and iOS 3.1 support. |
| 9.0.1.8 | | iTunes9.0.1.dmg | | 86,981,129 | |
| 9.0.2.25 | | iTunes9.0.2.dmg | | 86,992,611 | |
| 9.0.3.15 | | iTunes9.0.3.dmg | | 95,235,128 | |
| 9.1.0.79 | | iTunes9.1.dmg | | 98,151,588 | The first public release with iPad support. |
| 9.1.1.11 | | iTunes9.1.1.dmg | | 98,181,420 | |
| 9.1.1.12 | | iTunes9.1.1.dmg | | 98,180,859 | |
| 9.2.0.61 | | iTunes9.2.dmg | | 106,944,273 | The first public release with iPhone 4 and iOS 4.0 support. Breaks Spirit compatibility. |
| 9.2.1.4 | | iTunes9.2.1.dmg | | 106,762,845 | |
| 9.2.1.5 | | iTunes9.2.1.dmg | | 106,754,220 | |
| 10.0.0.67 | | iTunes10.dmg | | 86,284,593 | |
| 10.0.0.67 | | iTunes10.dmg | | 86,958,681 | |
| 10.1.0.56 | | ??? | | | |
| 10.1.1.4 | | iTunes10.dmg | | 91,000,000 | |
| 10.1.2 | | iTunes10.dmg | | 91,000,000 | |
Windows 32bit
iTunes version
QuickTime version


Download URL


File size
Comments
7.3.0.54
7.1.6.200


iTunesSetup.exe


49,673,528
The first public release with iPhone support.
7.3.1.3
7.2.0.240


iTunesSetup.exe


49,943,864


7.3.2.6
7.2.0.240


iTunesSetup.exe


50,005,304


7.4.0.26
7.2.0.240


iTunesSetup.exe


51,414,328
The first public release with iPod touch support.
7.4.1.2
7.2.0.240


iTunesSetup.exe


51,418,424
Just a shoddy attempt at blocking a free ringtone trick.
7.4.2.4
7.2.0.240


iTunes742Setup.exe


51,422,520


7.4.3.1
7.2.0.240


iTunes743Setup.exe


51,422,520


7.5.0.20
7.3.0.70


iTunes75Setup.exe


54,326,568
Permitted activation wherever the iPhone was internationally sold (UK, Germany, France)
7.5.0.20
7.3.1.70


iTunesSetup.exe


54,330,664


7.6.0.29
7.4.0.91


iTunesSetup.exe


58,619,176
Added Bonjour for Windows
7.6.0.29
7.4.1.14


iTunesSetup.exe


59,196,712


7.6.1.9
7.4.1.14


iTunesSetup.exe


59,163,944


7.6.2.9
7.4.5.67


iTunesSetup.exe


59,782,440


7.7.0.43
7.50.61.0


iTunesSetup.exe


63,481,128
The first public release with iPhone 3G and iOS 2.0 support.
7.7.1.11
7.50.61.0


iTunesSetup.exe


63,530,280


8.0.0.35
7.55.90.70


iTunes8Setup.exe


67,822,888
The first public release with iPod touch 2G support.
8.0.0.35
7.55.90.70


iTunes8Setup.exe


67,110,184
This version was released only 2 days after the official 8.0 release, supposedly to fix blue screen errors. Also removed device icons for iPhones and iPods.
8.0.1.11
7.55.90.70


iTunes801Setup.exe


67,167,528


8.0.2.20
7.55.90.70


iTunesSetup.exe


68,756,776
CoreFP library was moved from the QuickTime installer into iTunes
8.0.2.20
7.60.92.0


iTunesSetup.exe


69,076,264


8.1.0.51
7.60.92.0


iTunesSetup.exe


73,336,104
Brought back device icons.
8.1.0.52
7.60.92.0


iTunesSetup.exe


73,332,008


8.1.1.10
7.60.92.0


iTunesSetup.exe


74,302,760


8.2.0.23
7.62.14.0


iTunesSetup.exe


77,690,152
The first public release with iPhone 3GS and iOS 3.0 support.
8.2.0.23
7.62.14.0


iTunesSetup.exe


77,690,152


8.2.1.6
7.62.14.0


iTunesSetup.exe


77,976,864


9.0.0.70
7.64.17.73


iTunesSetup.exe


93,107,496
The first public release with iPod touch 3G and iOS 3.1 support.
9.0.1.8
7.64.17.73


iTunesSetup.exe


93,074,728


9.0.2.25
7.64.17.73


iTunesSetup.exe


93,266,280


9.0.2.25
7.65.17.80


iTunesSetup.exe


93,234,472


9.0.3.15
7.65.17.80


iTunesSetup.exe


98,180,904


9.0.3.15
7.65.17.80


iTunesSetup.exe


98,181,416


9.1.0.79
7.66.71.0


iTunesSetup.exe


97,525,032
The first public release with iPad support. Breaks blackra1n compatibility.
9.1.1.11
7.66.71.0


iTunesSetup.exe


97,543,464


9.1.1.12
7.66.71.0


iTunesSetup.exe


97,547,048


9.2.0.61
7.66.73.0


iTunesSetup.exe


96,768,824
The first public release with iPhone 4 and iOS 4.0 support. Breaks Spirit compatibility.
9.2.1.4
7.66.73.0


iTunesSetup.exe


96,972,800


9.2.1.5
7.66.73.0


iTunesSetup.exe


96,962,344


10.0.0.68
7.67.75.0


iTunesSetup.exe


74,840,872
10.1.0.56
7.67.75.0


iTunesSetup.exe


74,840,872
10.1.1.4
7.67.75.0


iTunesSetup.exe


78,000,000
10.1.2
7.67.75.0


iTunesSetup.exe


78,000,000

Windows 64bit
| iTunes version | QuickTime version | | Download URL | | File size | Comments |
| --- | --- | --- | --- | --- | --- | --- |
| 7.6.0.29 | 7.4.0.91 | | iTunes64Setup.exe | | 59,094,312 | |
| 7.6.0.29 | 7.4.1.14 | | iTunes64Setup.exe | | ??? | |
| 7.6.1.9 | 7.4.1.14 | | iTunes64Setup.exe | | 59,645,224 | |
| 7.6.2.9 | 7.4.5.67 | | iTunes64Setup.exe | | 60,368,680 | |
| 7.7.0.43 | 7.50.61.0 | | iTunes64Setup.exe | | 64,049,960 | The first public release with iPhone 3G and iOS 2.0 support. |
| 7.7.1.11 | 7.50.61.0 | | iTunes64Setup.exe | | 64,093,480 | |
| 8.0.0.35 | 7.55.90.70 | | iTunes864Setup.exe | | 68,391,720 | The first public release with iPod touch 2G support. |
| 8.0.0.35 | 7.55.90.70 | | iTunes864Setup.exe | | 67,672,360 | This version was released only 2 days after the official 8.0 release, supposedly to fix blue screen errors. Also removed device icons for iPhones and iPods. |
| 8.0.1.11 | 7.55.90.70 | | iTunes80164Setup.exe | | 67,731,752 | |
| 8.0.2.20 | 7.55.90.70 | | iTunes64Setup.exe | | 69,323,048 | CoreFP library was moved from the QuickTime installer into iTunes |
| 8.0.2.20 | 7.60.92.0 | | iTunes64Setup.exe | | 69,641,000 | |
| 8.1.0.51 | 7.60.92.0 | | iTunes64Setup.exe | | 73,855,272 | Brought back device icons. |
| 8.1.0.52 | 7.60.92.0 | | iTunes64Setup.exe | | 73,852,200 | |
| 8.1.1.10 | 7.60.92.0 | | iTunes64Setup.exe | | 74,820,904 | |
| 8.2.0.23 | 7.62.14.0 | | iTunes64Setup.exe | | 78,721,320 | The first public release with iPhone 3GS and iOS 3.0 support. |
| 8.2.0.23 | 7.62.14.0 | | iTunes64Setup.exe | | 78,715,176 | |
| 8.2.1.6 | 7.62.14.0 | | iTunes64Setup.exe | | 78,999,840 | |
| 9.0.0.70 | 7.64.17.73 | | iTunes64Setup.exe | | 94,196,008 | The first public release with iPod touch 3G and iOS 3.1 support. |
| 9.0.1.8 | 7.64.17.73 | | iTunes64Setup.exe | | 94,164,264 | |
| 9.0.2.25 | 7.64.17.73 | | iTunes64Setup.exe | | 94,316,840 | |
| 9.0.2.25 | 7.65.17.80 | | iTunes64Setup.exe | | 94,333,224 | |
| 9.0.3.15 | 7.65.17.80 | | iTunes64Setup.exe | | 99,237,160 | |
| 9.0.3.15 | 7.65.17.80 | | iTunes64Setup.exe | | 99,239,720 | |
| 9.1.0.79 | 7.66.71.0 | | iTunes64Setup.exe | | 98,400,552 | The first public release with iPad support. Breaks blackra1n compatibility. |
| 9.1.1.11 | 7.66.71.0 | | iTunes64Setup.exe | | 98,431,784 | |
| 9.1.1.12 | 7.66.71.0 | | iTunes64Setup.exe | | 98,435,368 | |
| 9.2.0.61 | 7.66.73.0 | | iTunes64Setup.exe | | 97,512,248 | The first public release with iPhone 4 and iOS 4.0 support. Breaks Spirit compatibility. |
| 9.2.1.4 | 7.66.73.0 | | iTunes64Setup.exe | | 97,710,080 | |
| 9.2.1.5 | 7.66.73.0 | | iTunes64Setup.exe | | 97,713,960 | |
| 10.0.0.68 | 7.67.75.0 | | iTunes64Setup.exe | | 75,743,528 | |
| 10.1.0.56 | 7.67.75.0 | | iTunes64Setup.exe | | | |
| 10.1.1.4 | 7.67.75.0 | | iTunes64Setup.exe | | 79,000,000 | |
| 10.1.2 | 7.67.75.0 | | iTunes64Setup.exe | | 79,000,000 | |