Monday, December 19, 2011
Update : Version 1.0-5 released ! Crack is out !!
v1.0-5
- Fixed a crash issue on iOS <= 4.1
- Fixed a proximity sensor issue blanking the screen when at lockscreen.
- Added orientation handling for contacts, recents and favorites.
- Fixed a bug where a new call would not take place if you had earlier opened the dialer and closed it without making a call.
- Fixed appearing order of first-last name according to user's preference.
- Added back answer-decline buttons option after users requests, Call Pickup Method is now available in settings.
- Added an online usage guide-FAQ in settings.
- Better activator method responses.
- Other minor bug fixes
Changes made on 1.0:
- Added option to answer telephony calls in-place
- Added methods and UI for handling telephony calls in-place
- Added dial-out option using callbar (Assign an activator action to bring down callbar and dial a new number)
- Removed answer-decline buttons, you now answer by swiping right and decline by swiping left on callbar.
- Added tap to show/hide in-call buttons. Tap callbar while in an active call to trigger.
- Added tap to open related call application. Tap the application icon on the left.
- Removed silence button, you now silence the call using the sleep button. (as for native calls)
- Added dial-out buttons : Favorites, Recents, Contacts, Keypad
- Added the following
call management
buttons: Mute , Speaker , Add Call, Keypad , Bluetooth , Hold Call, Swap Calls, Merge Calls.
- Callbar is now aware of a second incoming call and allows call-swapping/merging.
- The keypad can be used for both sending
DTMF
tones while in a call or dialing out a number when idle.
- Fixed several bugs.
- Improved memory usage.
- Removed methods for ringing applications (Anyring, ToneFXs etc) . We now provide an API for developers for this.
- Improved UI and graphics experience
- Added application for managing settings.
Download 1.0-5 Cracked : Official
Don't let incoming phone or FaceTime
calls
interrupt
what you're doing on your device any longer. CallBar re-designs the incoming phone and video call
interface
to allow you to use your device while it's
ringing
. Choose to answer, decline, or even dismiss the incoming call depending on your choice.
Upon dismissal, the bar will shrink and cover the status bar - a safeguard
just in case
you choose to pick up the call after all or you accidentally dismissed. You can answer or decline the
call from
this dismiss view also. Dismissing the call silences
the ring
or vibrate, which is done by tapping the banner, hitting the Power button, or pressing the Volume buttons. To re-enable the ring or vibrate, simply tap the banner to bring the banner back up. All the above functionalities are available from the SpringBoard, within any application, and on the lockscreen. You could be texting, updating Twitter, surfing the web, or in the middle of using any application - CallBar allows you to continue what you are doing without
interruption
and gives you the option to handle the situation with ease.
* Compatible for both phone and FaceTime
video calls
* Supports all iDevices on all firmwares 4.0+ (including iOS 5 betas - will support full version upon release)
* Settings for CallBar can be found in the Settings.app (excludes iOS 5 beta users - iOS 5 full version will support Settings)
CallBar User Guide - use it as a tool to help you become familiar with the different gestures,
actions
, buttons, and settings of CallBar.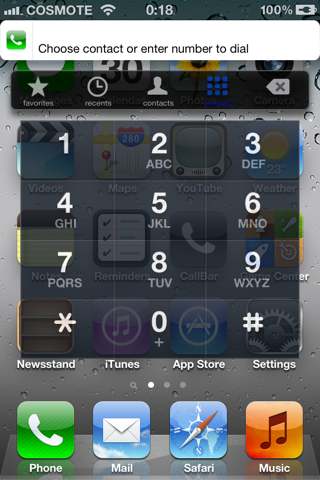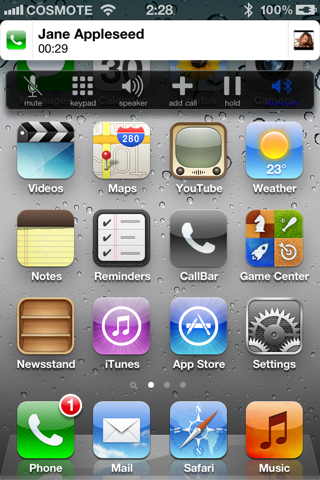 -----------------------------------------