Download 1.3 Cracked : Official
Warning 1 - Make sure you have SSH access to your device and you know how to remove MobileSubstrate extensions before you try this out, in case you run into trouble and your iphone gets stuck in the apple logo loop.
Warning 2 - The NullPlugin (bypass the lock screen) is not working correctly so i disabled it, Pattern plugin is working fine
Liberate your lockscreen!
iLock is a new enhancement to your jailbroken iPhone, iPod Touch, or iPad that allows you to unlock your device in different ways. Using plugins, iLock lets you replace "slide to unlock" with other innovative methods (both secure and insecure).
iLock comes with a default "Pattern Lock" plugin that enables you to draw a graphical pattern to unlock, similar to Android devices. Take advantage of iPhone OS-specific features, such as themes, multi-touch patterns, retrace patterns, multiple grid sizes, fun sound effects, and more!
Look for many more iLock plugins from SIC Mobile in the near future, or create your own using our FREE SDK (coming soon).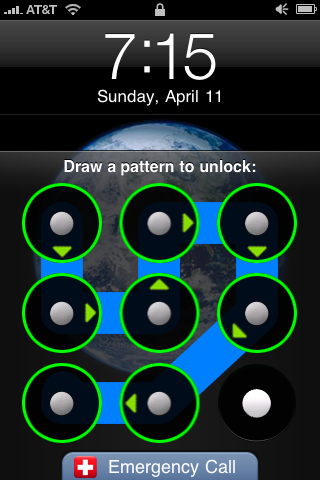 Features :
Multi-plugin architecture with FREE open source plugin SDK (coming soon) - anyone can make a plugin
All plugins made by SIC Mobile are theme-able with WinterBoard, even sounds
Settings take effect immediately, no respring needed
Compatible with 3rd-party lockscreen

software

such as Cydget and LockInfo
Pattern Lock (default plugin) - emulates Android's pattern unlock system
Pattern Lock plugin has iPhone OS specific features: multitouch, sounds, vibration, retrace, and up to 5x5 grids
Pattern Lock plugin comes with 4 fun themes: iLock PL Maya, iLock PL Tiles, iLock PL Tech, and iLock PL Taller
"Visibility" feature allows you to view your lockscreen better when 3rd-party lockscreen software is shown (such as LockInfo)
Integrates with Passcode Lock (both PIN/numeric and alphanumeric types)
Integrates with Emergency Call (iPhone devices only)
Recovery password feature resets your unlock pattern / authentication method in case you forget it
Fully international ready with 15 language translations coming soon
Works on iPhone, iPhone 3G, iPhone 3GS, iPhone 4, iPod Touch (2g - 3g), and iPad, on iOS versions 3.0 - 4.0.1
Look for upcoming iLock plugins by SIC Mobile in the near future, including BioLock (Biometric Face Recognition), VoiceprintUnlock, ComboLock and others