Posted by skygoat76 in news
Comex has followed up on the
JailbreakMe 3.0 leak we talked about earlier
this morning. Letting the Jailbreaking community kno
w that the iPad 2 Untethered Jailbreak PDF files were taken off his server through a dictionary attack. Making the situation even worse that it was before. The only reason these files were on his server was to do beta testing within the
Dev
-Team to prep for the official release of
JailbreakMe
3.0.
With the files now leaked across the internet this means Apple now has the opportunity to begin patching the PDF exploit, while Comex is still working on making a stable Jailbreak. Thus, as he notes through a series of tweets, all users who wish to eventually Jailbreak their iPad 2 untethered should save their iOS 4.3.3 SHSH blobs [TinyUmbrella] just in case Apple does release
iOS
4
.3.4 to patch this exploit.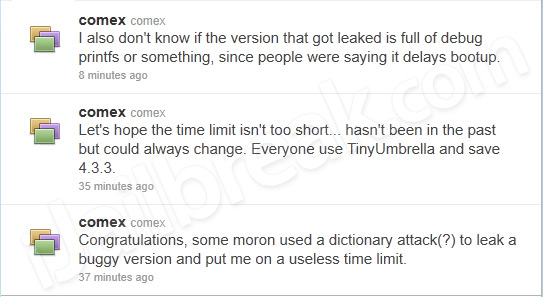 Among other things Comex notes that those who did Jailbreak using the beta version of JailbreakMe 3.0 may experience a large increase in bootup time.
Overall the entire situation is a downer for the Jailbreaking Community. It is a shame someone had to leak the untethered iPad 2 Jailbreak PDF files as this means Apple is now one step ahead of Comex. We will keep you updated on the situation. Until that time please stay tuned…
Update: iH8Sn0w has just Tweeted Us that iFaith does not support saving iPad 2 SHSH blobs.