Friday, November 05, 2010
Download 1.0.1-2 Cracked : Official
MyOS is a new tweak in Cydia that allows you to easily enable or disable features on your iDevice straight from Settings.app without having to edit a plist. Toggle one or more features and then press the "Respring" button. By default, only the default features for your iDevice are enabled as of version 1.0.1.
The following features can be enabled/disabled:
Multitasking – Gives you the user the option to turn Apples native multitasking feature on and off at will.
Homescreen Wallpapers – The ability to enable and disable Apples own implementation of backgrounds in SpringBoard on and off.
Unified iPod – Whether you like iPod.app on your iPod Touch or having Music.app and Video.app on your iPhone, this gives you the choice.
AppStore – Don't like what the official AppStore has to offer, or want to prevent people from using it? this gives the ability to turn off the AppStore.
Contacts (iPhone models only) – Stand-alone contacts make no sense when you have the Address Book in Phone.app? using this option you can turn it off.
HDR (Requires hardware camera) – Enable HDR on unsupported devices or disable it from your iPhone 4, the decision is yours.
GameCenter (iPhone 3G only) – Enable GameCenter on your iPhone 3G.
Camera.app (Requires hardware camera) – Disable the camera on your device.
Voice Control (Voice control capable devices only) – Disable Voice Control on all supported devices.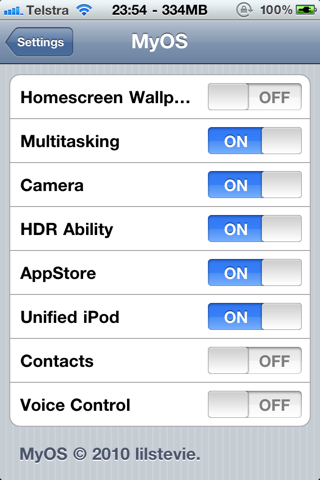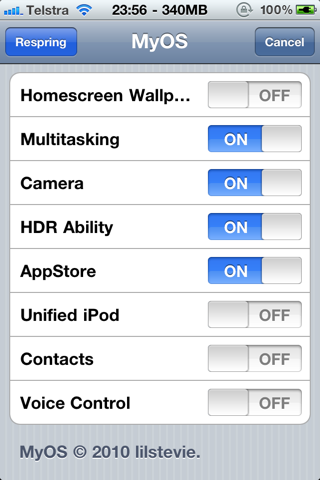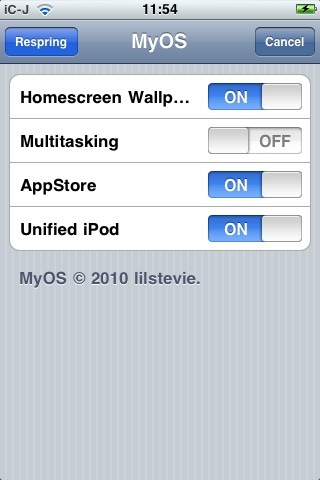 Notes :