Friday, September 23, 2011
Update : Version 1.2.7 released ! Crack is out !!
v1.2.7
Download 1.2.7 Cracked : Official
NOTE : You need to respring 5 times !
Ryan Petrich has released a new application called
Overboard
which is quite similar to Orbit, produced by Steven Troughton-Smith instead and that will allow us to quickly switch between page to page of SpringBoard. With an effect similar to the
Expo
for the Mac, we can see a small preview of every page. Through the settings also, we can decide the size of the preview, the display of the Statusbar and icons in the Dock, and more.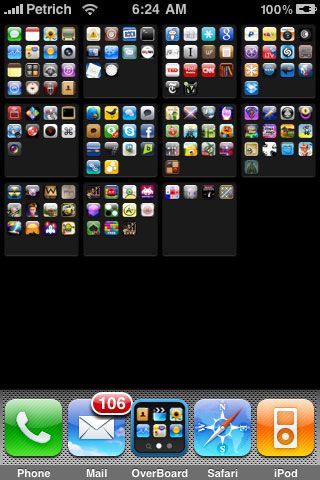 The first box will be combined with a search box, which will lead us directly to the Spotlight. It 'really very nice and also in terms of performance is not behaving quite badly. It is currently Orbit even better because it can be customized by choosing the number of columns to be displayed (I recommend leaving 3) and supports themes.
Notes :
----------------------------------------------
Previous Version
1.1.4 : Official