PwnageTool
permits you to jailbreak
Firmware
3.1.3.
Here is a guide which will permit you to jailbreak this new firmware only for Mac users for iPhone 2G/3G/3GS (except MC series with new
iBoot
) and iPod Touch 1G/2G (except MC series).
WARNING
: Unlock will not work for those who use actually Blacksn0w with Baseband 05.11.07. If you are in this case, don't do anything. If not, you will lose your unlock !!
It may be possible that it remains some bugs with iPhone 3GS ! Dev-Team signals that this version of PwnageTool don't bring so much improvements ! Moreover, this jailbreak tool don't make iPod Touch 3G jailbreakable.
1/ Start PwnageTool 3.1.5 and connect your iPhone via USB. A pop-up window will open with Copyrights, press OK.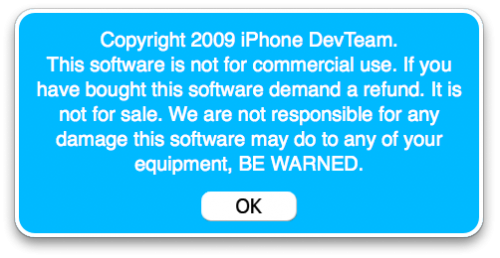 2/ Press Expert Mode, then select your device. Finally, press blue arrow to continue.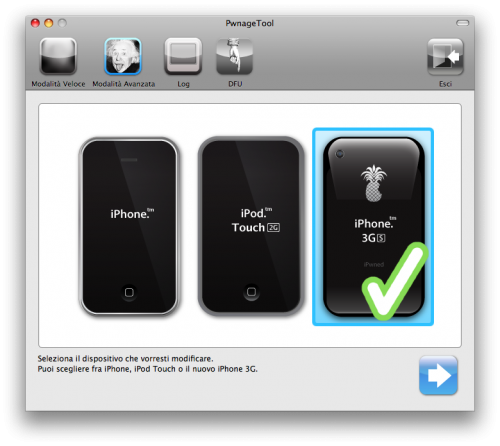 3/ PwnageTool looks for Firmwares you have on your hard drive… Select the right one, if it doesn't find it, find the path by yourself on your Mac and then select it. Press on continue.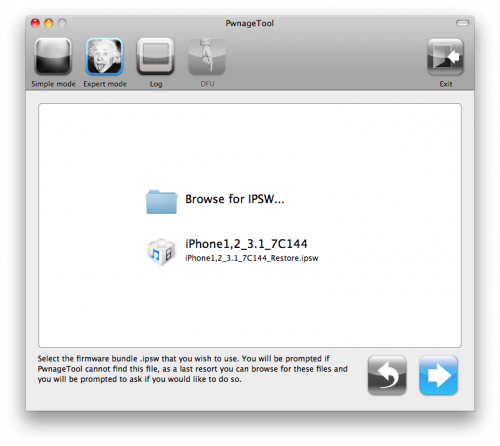 4/ At this point, press on « general » and begin customization :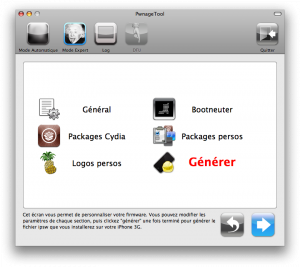 5/ Now, you must choose the size of your System part, set it up to 550 Mo. You can set up more but it is not necessary !
You must also select if you want or not activate (hacktivate) your iPhone. If you have an official iPhone, DON'T PRESS "ACTIVATE IPHONE" !!
However, if you have a non-official iPhone, don't forget to press this option.
Don't press on "Update your radio firmware"
Continue...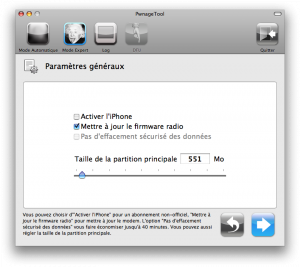 6/ Notch the same cases as the picture
For official iPhone v1, don't notch anything. Except if you want to unlock it.
For non-official iPhone, notch "Patch bootloader", "Unlock" and "Automatically remove Bootloader.app". If you want to update the BootLoader, you will need to put the downloaded path where you saved the Bootloaders 3.9 et 4.6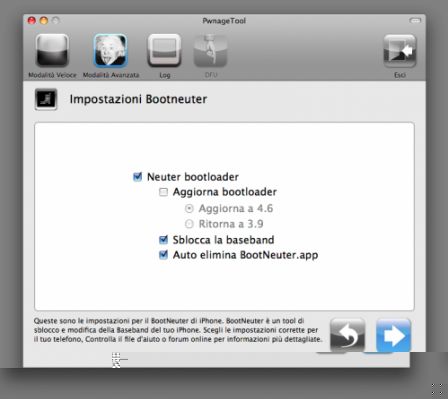 7/ You have the possibility to pre-install applications and/or sources for Cydia directly in your Firmware.
Press on "Download Packages" then "Update" to make the list of applications and sources appear. And then, simply double-clic on the wanted file to download it.
And, you need to go back to "Select packages" and select what you've just downloaded to install it.
Once this is done, continue...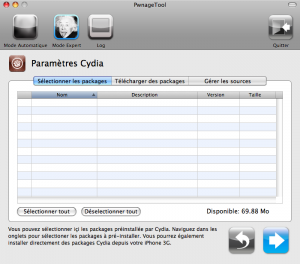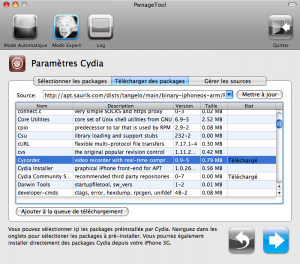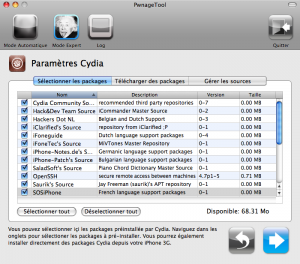 7/ Choose "Cydia".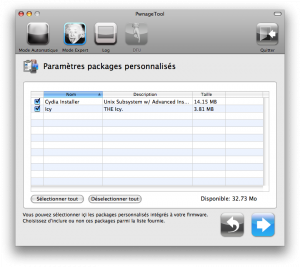 8/ Now, you can choose your boot logo and your restore logo. Your pictures must be maximum 320×480 pixels, format .png and maximum 100 Ko. Clic on "Upload" and choose your picture.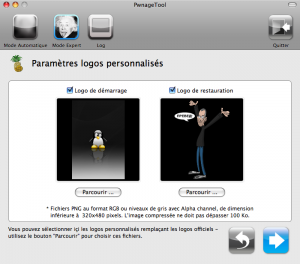 9/ Press on "Generate" and continue to start the buildign of your Firmware.
By default, the Firmware will be saved on your desktop, let it there.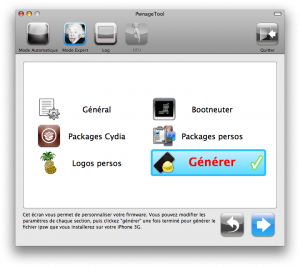 PwnageTool will ask you the password of your Mac, type it and wait...
10/ PwnageTool will ask you now if you have already installed a custom Firmware on your iPhone or not, I advise you in any case to press "No". Then PwnageTool will guide you to the DFU mode. Even if you know how to do, follow the instructions if you don't want any issues.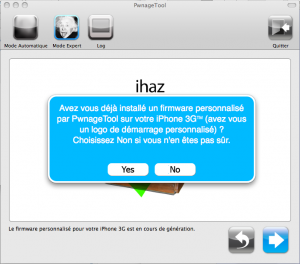 11/ Connect your iPhone and follow instructions…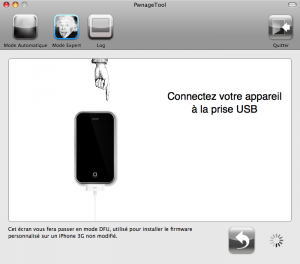 Shutdown your iPhone…
You have 5s to prepare yourself to push Home button + Power together…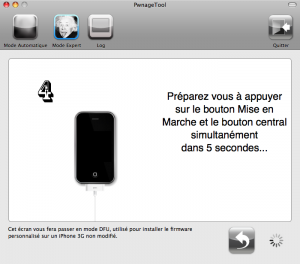 When the count is finished, press at the same time on Home + power during 10s. Then, it will tell you to prepare yourself to release only the Power button in 10s…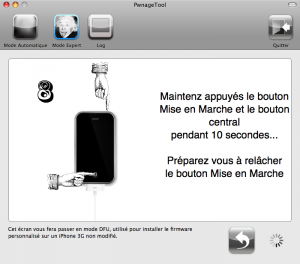 Release Power button and keep Home button pressed for 10s and then release it when the count is finished…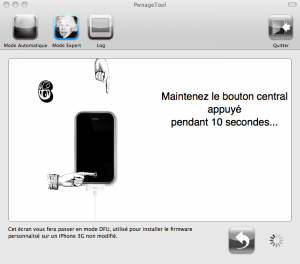 PwnageTool will tell you if you have successed the DFU mode. If it's not the case, you can do it again by clicking on "Yes" and rebooting your iPhone.
12/ Open iTunes and you will see this message:

12/ Clic on OK and press ALT (Options) on your keyboard, and at the same time with your mouse on the Restore button in iTunes.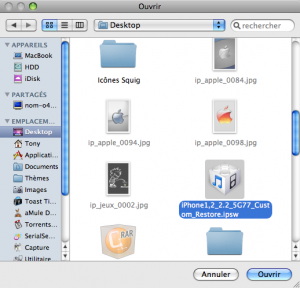 Let's go for 10 minutes !!

…

Your iPhone reboots…

You have finished! Now, you have an updated Firmware iPhone / iPod 3.1.3 , andmoreover it's jailbroken with Cydia.